Few months back I went fishing at Pulau Jarak with GT Chaser, and was chatting with Captain Ah Ho bout vege juice. Coincidently, I bought an expensive Philips blender and was cracking my head what to do with it. So after the fishing trip, I started my vege juice routine daily.
My daily breakfast... Spinach, apple, carrot, plain yoghurt and blend. I also cut some smaller pieces of apple and carrot for Kayden and Kenzie and they love it!
And I went Giant earlier and went on a health freak spree.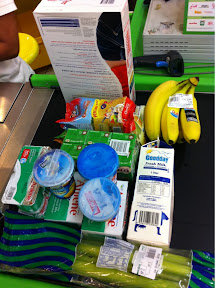 Bananas for our weekend runs or hikes. Oats, cornflakes and nestum to rotate with vege juice in the morning, or for pre/post runs energy boosting. Anlene concentrated milk for the oats or nestum. Celery to add to the morning juice.
- Posted using BlogPress from my iPhone