After 2 weeks of FRIM, I needed something different to train for Mountain Kinabalu. So I decided to try Bukit Apek; the hill where uncles and aunties stroll casually and youngsters huff and puff.
The funny thing was, none of us had been to Bkt Apek. Thankfully, I found this direction online somewhere -
Use the Grand Saga expressway from Kuala Lumpur to Cheras. Take a left exit to Taman Cuepacs right after Petronas (before the first toll plaza). Follow the road to Econsave Segar Perdana. Upon reaching the T-junction near Econsave, you will see Shell on your left. Turn right and park your car along the road.
To make it simpler, take your GPS, go to Point of Interest and key in Econsave Segar Perdana. Once you reached there, park somewhere legal and walk around like tourist and ask for directions.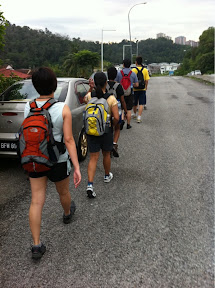 We reached the 'entrance' before 8am and off we went. The good thing here is, all morning birds are very friendly towards each other.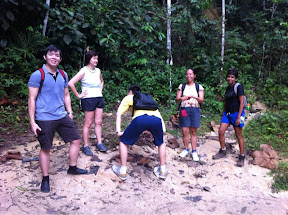 While there are many Y junctions which brings you to the same destination but different steepness and distance, you just need to ask around for direction and the people there are ever so friendly and helpful.
The weather for the day was wet Wet WET!!! And I love it!!!! Before the hike, I was secretly hoping that it will rain. 1 it gives us an idea of hiking in the rain as Mt Kinabalu is always wet. 2 Salomon need some mud!!
The Salomon XA Pro 3D Ultra 2 was put to test and it performed flawlessly!!!
The grip was awesome uphill and downhill and my feet felt protected all the time.
And along the way, we saw this-
Seriously? Come on... Wanna do, do it properfuckingly please.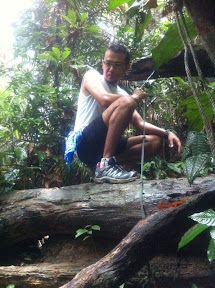 Anyway, it was drizzling in the morning and later part, it got pretty heavy.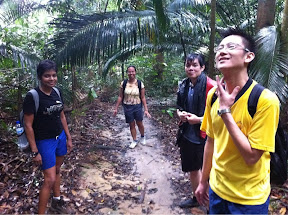 The only downside of the rain was I didn't bring a cap, and my spectacles had no vipers. So at one point, I was running downhill, skipping side to side half blind.
Overall, we trek from the entrance up to Station 6, then back track to the waterfall.
The descent to the waterfall was quite steep but good thing is most of it has rope by the side. Don't forget the sides are also filled with thorny branches, so please watch out.
From the waterfall, we went back to Station 6 and went down the other side.
So all in all, we covered around 11km of tracks and it was tons of fun.
- Posted using BlogPress from my iPhone