Seriously, do we still need to ask that all so
important
question; what are you running for?
Sometimes, I feel like we are freebies hunter.
We will wake up at 5 something in the morning on a Saturday and get our asses to middle of nowhere, very often with the help of Eh-Pel (name of our Garmin GPS), and run. And this time round, is at Cahaya SPK for Adination Breakfast Run.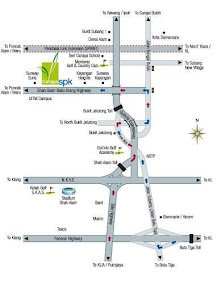 Adidas being Adidas, takkan la they gonna stinge on freebies!?
So besides getting to run a 8km+ trail, we get tons of lucky draw, FoR the lucky ones.
I repeat, the LUCKY ones!! Or you can be the FAST one and finish top 5 to win some prize.
Beside the top prizes, they will have gifts for every 10th finisher. Yes, every 10th, up to 500. They gave away tights, shorts, Ts, bags, etc.
And they also had close to 40 lucky draws. FOR freaking TY!!!
Once again, we were not lucky.
So in summary, Adidas is super generous, and we are super unlucky. Although we did get our share of free nasty lemak, cereal, Milo, etc.
And I got to wear my new tights I bought from Singapore, BUFF. If it's red, I'm sold.
- Posted using BlogPress from my iPhone